China Tour Diary 2011
Ni hao!
I toured China in November 2011 and kept a diary along the way. Here it is.
See more photos from the tour on my Flickr.
Wednesday 9th November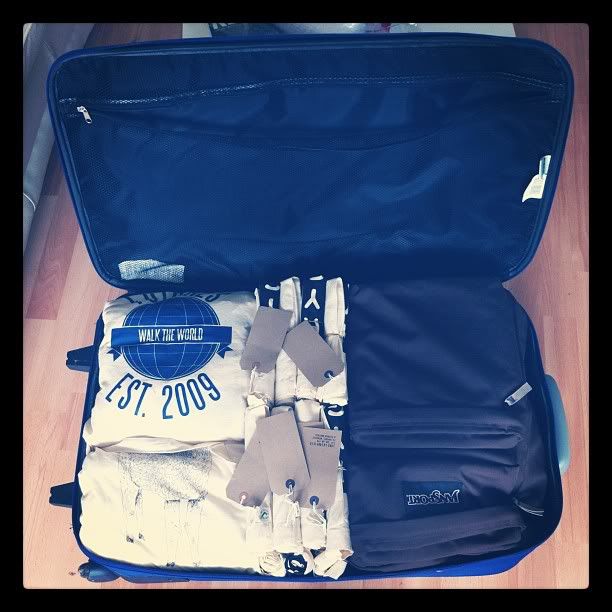 The day had finally come to return to China! I first toured China back in Christmas 2008 and despite plans to come back, it hadn't quite come together…until now. So here we start my journey, dear reader, in Heathrow airport. There's not much to say about Heathrow airport. I flew to Amsterdam to transfer to a flight to Beijing, which was delayed by an hour. So I sat around in Amsterdam airport and made some serious progress on my book - 'All the Pretty Horses' by Cormac McCarthy. And finally the plane came.
I kicked back on the flight with some red wine (albeit with a glass the size of a shot glass, so basically I did a few shots of red wine) and plumped for Date Night out of the in-flight movie selection, simply because Tina Fey is in it and I've been addicted to 30 Rock lately. It was okay. Suffice to say that 30 Rock is better. Despite the red wine and the film and the fact that it was really late, I struggled to sleep and then woke up after a couple of hours, whereupon I tried desperately to contort my body into every possible position within the constraints of a tiny aeroplane seat. Alas, nothing worked and I was wide awake in the middle of the night, so I enjoyed MATT DAMON in The Adjustment Bureau. Have you seen it? It's a very good film. Apart from the weird hat thing. But I think they just about pulled off the weird hat thing, considering how weird it is. Then I finally managed to fall asleep, dribble on myself, and then we were in Beijing. NI HAO.
Thursday 10th November
At some point between where yesterday's blog ended and today's began, we had transitioned into a new day by the powers of flight and time travel. I didn't know what day it was anymore. But I arrived in Beijing at 16.00 on the Thursday, Chinese time (China is eight hours ahead of the UK). The Chinese visa people let me through (thanks) and then I was reunited with Paul, my Chinese booking agent / tour manager / label boss / lover. If you read my blogs back in 2008 then you might remember some stories about Paul. Basically he sings Beatles songs all day in his beautiful karaoke voice, although this time he has learned some more of my songs and proceeds to sing 'Have You Got Heart?' at any available moment. He is incredible.
We caught a taxi to the hotel, then Paul took me for what was essentially a banquet in a nearby restaurant. China is vibrant, loud and busy, but also oddly calm. Like a weird mix of hectic and relaxed, as demonstrated by the taxi drivers cutting each other up and beeping their horns like madmen, while old men slowly ride their bikes the wrong way down the street, narrowly avoiding these taxi-driving maniacs by a matter of inches. The restaurant was similarly chaotic with people shouting at waitresses for their food, and loud conversation ringing out everywhere. We enjoyed a seemingly endless amount of food, the particular highlight for me being garlic broccoli. It was unbelievably good. You should make it - apparently all you do is steam the broccoli (as per usual) then fry it off with a bit of olive oil and loads of garlic. The results are quite simply divine. I'm definitely going to be eating it every day when I'm back in England. 
After all the manic travelling and time differences I was super tired, so I went back to the hotel, finished my book, and fell asleep. I awoke feeling super refreshed but then I checked my watch and it was only 5.00. Apparently this is called jet lag. But luckily there was wifi and it was the optimum time to catch up with some friends in England. Sadly, because China's government is COMPLETELY MENTAL everything like Twitter, Facebook and Tumblr is blocked, which means that my website is inaccessible to my Chinese fans because it's built on Tumblr. Paul has some ghetto thing which re-routes his IP address or his proxy or something, meaning he can still go on English sites. He's like a spy. But I didn't have this. So now I have signed up to Weibo, which is like the Chinese version of Twitter. And I post 'weibos' instead of tweets. Then I went back to sleep.
Friday 11th November - Yuyintang - SHANGHAI
Paul came to meet me at the hotel then it was time to leave Beijing and head to Shanghai for the first show of the tour! We caught a taxi to the bullet train station, which is this SUPER FAST train that was going to take us from Beijing to Shanghai in four hours and forty minutes, at an average speed of 300 km/h. Heavy. That same journey apparently used to take over ten hours. Sadly we couldn't get tickets for a journey until later in the day so we had to hang around the station for a few hours. We had breakfast in McDonald's and then I re-discovered Angry Birds on my phone. I never play games on my phone unless there's literally nothing else to do, so my Angry Birds skills are somewhat lacking. I have a feeling that I'm going to get better on this tour, though. So I kicked some ass on Angry Birds and killed those weird green things, then I started my official 'tour read' - Crime and Punishment. It's a big read.
The train was super fast and badass but all the time spent sitting down the past few days meant that I started to get those searing pains that go from your thighs to your buttocks. You know the ones I mean? I hate that feeling. Anyway, we ate dinner on the train because we were going to arrive pretty late in Shanghai and would have to go straight to the venue for my show. We caught the subway, which was way nicer than the underground, and finally arrived at the venue, which was completely rammed. Obviously we'd missed soundcheck and everything so I had to try to make the fancy keyboard sound good with everyone watching me - it was one of those super posh red Nord ones with loads of buttons and flashing lights, which I'm sure is amazing under most circumstances, but essentially it sounded mental and I was trying to tame it in front of a packed room of Chinese people. The sound onstage was also mental but there's a limit to what you can do in two minutes, especially when you don't speak any Chinese, so I just ROCKED IT. It was a pretty good show and there were loads of people, but it was also "singles' day" (because it was 11/11) which means that everyone comes out to kiss each other, so the room was pretty loud. Anyway, I tried my best to make some new Chinese friends with my limited Chinese vocabulary (I know how to say "hello" and "thank you") and seemed to sign lots of stuff afterwards, so I hope it went okay. 
Paul and I went for some sweet post-show 2 a.m. noodles after checking in to the hotel, and then caught a taxi to a new venue that Paul wanted to check out - he thinks it'll be good for his hardcore shows. Paul mostly books punk and hardcore bands, but obviously I'm pretty hardcore so it's all cool. Then finally we went to bed at 4 a.m.
Saturday 12th November - Wave - SUZHOU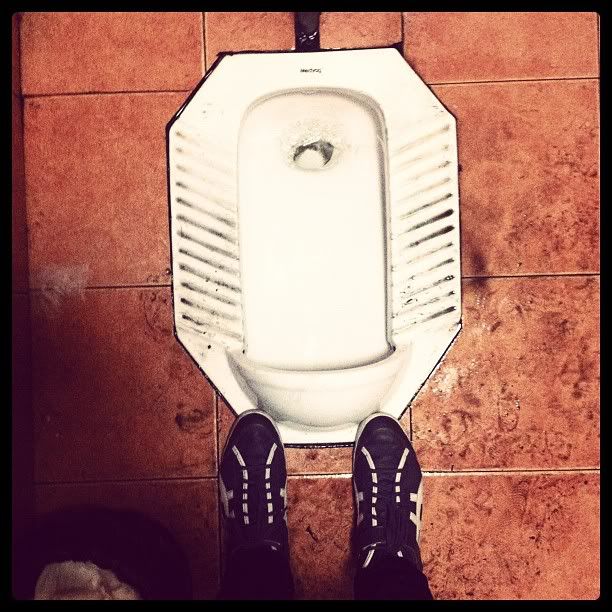 Today was a late start after last night's late finish. Luckily Suzhou is pretty close to Shanghai, only 45 minutes on the bullet train, so we headed to the station, ate McDonald's for brunch and jumped on the train after a couple of hours of waiting around. I'm investing serious time in Angry Birds at the moment. So much Angry Birds. 
We tried to catch a taxi from the station to the hotel but it was super busy, so we caught a bus and then Paul said that the promoter was coming to pick us up from the bus stop. The promoter eventually turned up on a moped. Paul and I are obviously two people, and we each have a massive suitcase. I have no idea how anyone ever thought this was a good idea. But the promoter's friend turned up (also on a moped) and we proceeded to attempt to wedge our suitcases in between the drivers' (or riders'?) legs so that we could ride along on the back with our suitcases hanging off. After a few minutes of fruitless attempts to make this frankly ludicrous plan happen, we walked to the hotel.
Disaster struck at the hotel when they said they weren't allowed to have foreigners stay (the hotels are all required to take a copy of my passport and fill out a long form about why I'm there - crazy Chinese government) so after some raised voices and slamming of the desk from the Chinese guys, we left for another hotel. But this time apparently it really was too far to walk, so we continued with our earlier attempt to wedge a massive suitcase at the front of each moped, then Paul and I rode on the back. As I rode along on the back of this moped, dodging in and out of cars, pedestrians, buses, animals, etc. I recalled all the times I sat in a taxi and looked at people doing exactly what we were doing, and how much it looked like suicide. But I thought I might as well enjoy the time, seeing as it might be my last few minutes on earth, and proceeded to film the happenings on my phone. We eventually arrived, largely unscathed (although my suitcase took a minor battering) and checked in at a hotel where I was wanted.
Tonight's venue was great - it was like a regular venue with a nice high stage, but a miniature version - kind of like The Joiners had been shrunk to a quarter of its size. A fun-sized rock venue. It was also underground, and upstairs there was a board games club. I kid you not. People go there just to play what I assume are the Chinese versions of Monopoly, etc. I caught sight of Kerplunk too. Does anyone else remember that? We definitely need to get some board games clubs in England. Maybe I'll start one. 
The show was pretty fun although the keyboard I was playing had no dynamics whatsoever, so I played some pretty clunky ballads. I hope the audience didn't think I was a ham-fisted idiot. One really has no way of knowing these things. Anyway, I made some friends afterwards and then we headed back to the hotel. I'd had a few Tsing-Taos (China's most famous beer - but it tastes exactly like good German beer because it was started by Germans in the first world war when they spent a lot of time in China and wanted something good to drink - apparently) so I felt pretty sleepy, but after an hour of reading Crime and Punishment, Paul suggested that we go for some street food. So we went and had incredible street barbecue food at 2 a.m., including barbecued broccoli, squid, cauliflower, and all manner of other tasty treats. 
Sunday 13th November - Castle Club - NANJING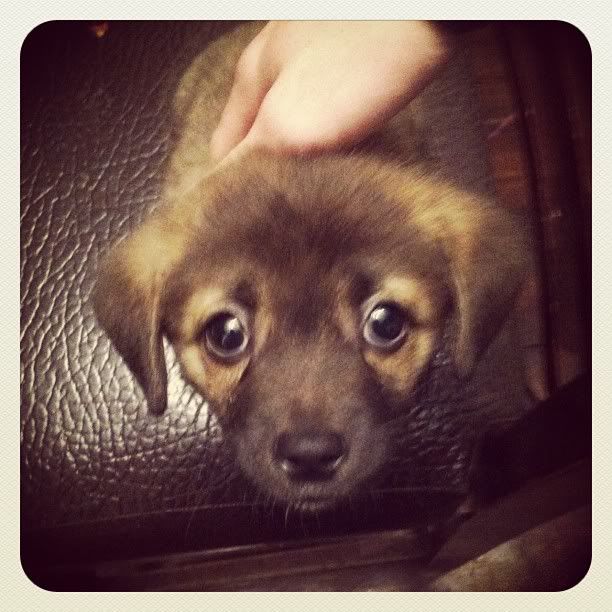 The journey today was another short one (thanks to the power of the BULLET TRAIN) so we slept in until 12 and then headed to the station. Today we sampled Chinese KFC which was pretty much the same as UK KFC. Thrilling. After making some serious progress with Need for Speed on my phone (Angry Birds was getting boring today) I snoozed to the sounds of Agnes Obel and Mates of State, and then we were in Nanjing. I'm sorry that there aren't more observations on these beautiful cities by the way, but when all you see is hotel / train / station / taxi / hotel / venue / restaurant, it's hard to say much of worth. But hopefully we'll get to do some sightseeing soon.
Today's hotel was pretty sweet (although weirdly they charge more for double rooms than triple rooms) and we finally had good wifi for the first time on tour, meaning I could clear my Instagram backlog! We were met at the hotel by Pan, our promoter, who took us to the venue. He had a nice keyboard in the back of his car, which made me feel a lot more positive after last night's keyboard woes, and then we went to eat some dinner including fried bullfrog, fish porridge, and yet more fried broccoli. I can't get enough of the stuff. 
The show itself was probably the best so far in terms of how I played and how the sound was, and there were quite a few people there too considering it was my first time in Nanjing. The best thing of the night for me was that the sound man had the cutest puppy with him at the show. It just walked around by the sound desk and pooped on the floor. Incredible. I'll get some pictures up soon - everyone loves a puppy. Someone in the crowd also told me that I have to try duck blood soup. Um. Tonight was over pretty quickly because there were no support acts and I was on at 8.15, so we got back to the hotel early and went to sleep ready for an early start the next day.
Monday 14th November - Vox - WUHAN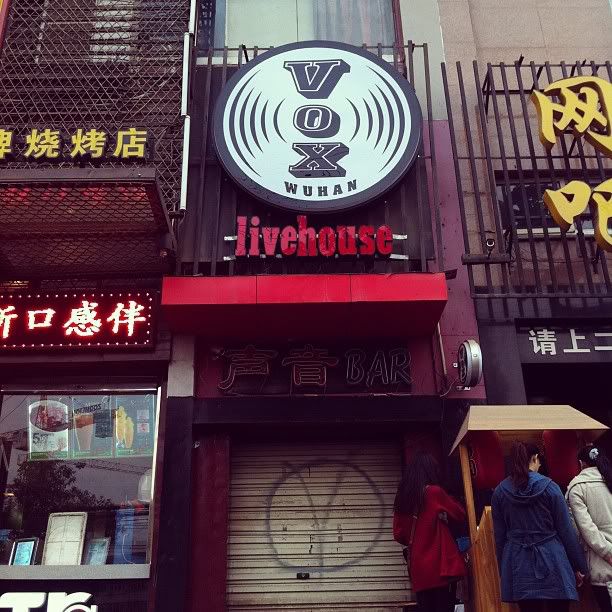 What I neglected to mention in yesterday's blog is that after writing it, Paul treated me to a serious massage. This sounds weirder than it is - Paul's degree was in Chinese traditional medicine, which means that he gives a mean back massage. So now you know to ask him for one if you ever get to meet him. 
We did the usual train thing today, but I had some kung pow chicken at the train station which almost made we weep with its strength. It was very spicy. Today's train was another long one but Paul kept me entertained with some of his "catchphrases", including, "Luke Leighfield - what a beautiful phrase". I'll endeavour to make a note of some of his more amusing lines over the coming days for your amusement. I'd also downloaded a new game for my phone called Temple Run. You basically have to run for ages and ages. As with every other game, I suck at it.
I played at Vox on my last tour back in 2008 and it was definitely the best venue of the tour. It has a balcony, a great logo, and killer sound. The sound man tonight had a digital desk which meant he could stand in front of the stage and do all the sound on his iPad. What is this crazy world?! The sound was the best of all tour and there was a nice keyboard too. Before soundcheck we went for food with the promoter and, like most days now in China, I ate an inhuman amount of broccoli.
The show itself was pretty good, although it was a little disconcerting to be filmed by literally EVERYONE at the venue! But it was a good show and I met some nice people. The venue also asks everyone who plays there to sign a bit of wood, and they have them all hanging on a wall. I found my one from 2008 and saw that Owl City played there fairly recently and signed one too, which was pretty cool. 
We had to be in Changsha early the next day for a radio interview so we had to catch a night train from Wuhan that night, complete with beds! The carriage smelled of feet and was super humid. Nice. I lay there and dozed and sweated profusely until we finally arrived in Changsha at 5.30 and headed to the hotel to sleep for a few hours.
Tuesday 15th November - Freedom House - CHANGSHA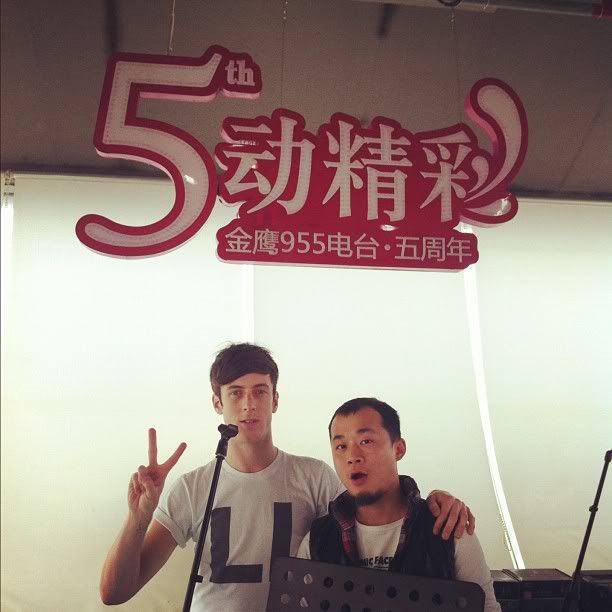 We got up at 9ish and headed to the radio station (Golden Vox FM) for my interview and live session. We eventually managed to find the studio and did a quick soundcheck. They had some seriously expensive gear there and are apparently one of the first radio stations in China to do live sessions, so the sound was great. Then we headed out for brunch with the radio show host, Jang Li. We ate on the top floor of this shopping mall in what seemed to be a super posh restaurant. Naturally I ordered freshly squeezed papaya juice to drink. I asked him what the listenership was of his show and he said that it goes out to around 1 million people. Insane.
Then it was time to head back and do the session and interview. It lasted for about an hour and a half, broken up into six sections with extensive amounts of adverts. Jang Li asked the questions in Chinese, then Paul translated them for me, then I answered, then Paul translated my answer, then we all laughed heartily. Paul could have been completely lying about what I said and painting me as an utter psychopath. I hope he didn't do that. Terrifyingly, everything was going out completely live but thankfully I didn't make any huge errors in the songs.
Afterwards we headed back to the hotel to sleep some more before the show. Some of Paul's choice quotes today included, "You naughty baby. You so naughty." and, on the subject of all the business cards left by seemingly stunning prostitutes in the hotel's booklet thing, he said "It's lies. The prostitutes look like Ron Atkinson but a woman." So that was that. Then we headed to the venue, did a soundcheck, and went to eat noodles for dinner.  
Despite the fact that the radio show had gone out to 1 million people, there weren't 1 million people at the show. But it was still a nice show. Freedom House is a kind of cafe thing downstairs with loads of books and CDs for sale or rent (I couldn't quite tell which) and weird and wonderful teas and coffees, and upstairs it was a venue with a super westernised bar featuring lots of Budweiser and Jack Daniels. The show was good except for my weird crackly monitor which made my voice sound like wartime radio. Then a girl afterwards asked me if no one had told me that I have to play for two hours when I'm in China, despite the fact that my set has been about an hour and fifteen minutes long every night. I told her that two hours was probably a bit too long. 
Then I Skyped award-winning photographer Tom Price, drank two beers, took some photos of Changsha at night, and went to sleep.
Wednesday 16th November - day off
Woke at 12. Taxi > train > subway > subway > food > internet > bed.
Thursday 17th November - 191 Space - GUANGZHOU
We woke up pretty late in the hotel and went to meet Paul's friend Dung for lunch. Dung works at Weibo (the Chinese Twitter). Today's lunch held a few surprises including "chicken's paw", which was a chicken foot deep fried in a kind of batter. I took one for the team and tried it but I can't say I was blown away. It was like chewing on gristle and bone in a wet KFC batter. Apparently it's a big favourite in Guangzhou, though. 
Afterwards we parted ways with Dung and I finally managed to find some postcards to send back home. There wasn't anything as tacky as I'd hoped for but Paul spiced them up by writing a Chinese love note on each one. Paul bought a copy of a fashion magazine that he writes a music column for (this month's column was about my tour) then we went to meet his friend, also called Paul, and check out his band's new practice room. On the way there we went to a shop where there was a tiny kitten in the doorway. Awesome. 
Paul played football manager at the practice room (he's obsessed with football) and afterwards we watched videos of Crossfaith and Parkway Drive, two bands that Paul books in China. Crossfaith are this ridiculously amazing Japanese metalcore band. They blew my mind. I'll post some videos when I get back to England. Parkway Drive are an Australian hardcore band. Obviously I fit right in with the usual kind of bands that Paul works with. Parkway Drive have a sick video where they spend the second half surfing then get out the water and continue playing the song. It made me think that I should probably incorporate some of my sporting prowess into one of my music videos, but I've never really been good at anything except for swimming and bouncing on a pogo stick, neither of which I'm sure will make for compelling viewing.
Afterwards we ate yet more adventurous food (this time it was boiled pig skin), although I didn't really eat any because the slimy chewiness of it turned my stomach. Then we headed to the gig. Tonight's show was pretty busy and there was a drunk Canadian girl who kept shouting at me through my set. Friendly shouting, not abuse. I found out afterwards that her name is Amanda and she runs a fashion business. Everyone was super friendly and it was definitely my favourite date of the tour so far. Although my negative opinion of "chicken's paw" didn't seem to go down so well. Also, a crazy guy came late to the show, didn't go in, bought ten copies of 'Have You Got Heart?' from Paul, and then left. I have no idea why he did this.
Paul went back to the hotel while I stayed to watch a terrible covers band. Then we ate late night noodles. Then we went to bed.
Friday 18th November - Nuts Club - CHONGQING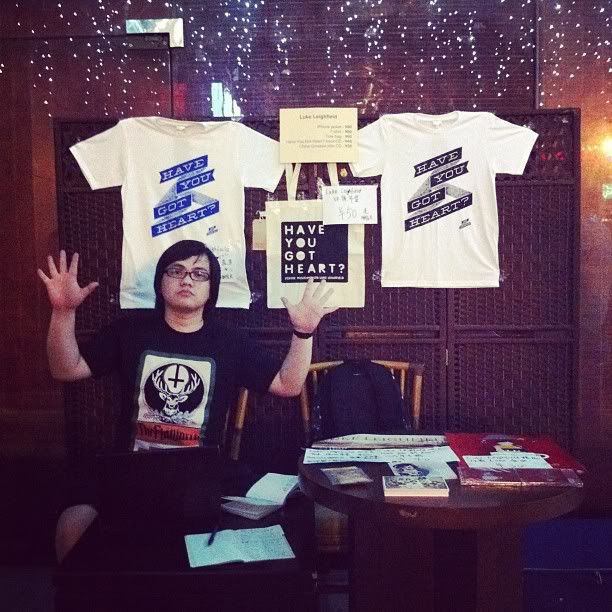 Chongqing is a long way from Guangzhou so today was our first domestic flight of the tour. It felt pretty rock 'n' roll. We spent basically the whole day travelling and eventually arrived at the hotel at 5.00ish after a death-defying taxi ride from the airport. The venue itself was brilliant and I had a nice keyboard to play, then we headed out for dinner with the owner, Jung, whose Chinese name was apparently Old Ghost. He did look a bit old ghost-y. We had dinner in this noodle place where it was utter chaos with the waiters and chefs all tripping over one other, running between the tables, shouting at each other and trying to work out whose food was whose. It was fun chaos, though. I had chicken fried rice and the chicken didn't look very cooked, which later resulted in me almost throwing up on stage. As I stood there trying to swallow down my sick urges I made a joke that puking onstage would make me almost as hardcore as Slipknot. No one seemed to know who Slipknot are, despite me singing a fairly accurate sample of 'Wait and Bleed'.
The show tonight was busy and there were loads of friendly people there. Afterwards (after taking a pre-encore puke break, although I didn't actually manage to puke) I met some amazing people, including a guy who came up to the merch table just to do his Cockney impression ("AL-WITEEEEE GEEEZZZZZAAAAHHHHH") before quizzing me on what my favourite Britpop band is (Blur) and why I don't like Joy Division. You'll be pleased to know that I captured this impression on film for my tour video. Other highlights of the night including a guy chastising me while I was onstage for playing the trimmed-down version of 'Have You Got Heart?' (sans guitar solo). I told him he could come up and play the solo if he wanted. Then we went to bed ready for an early flight tomorrow.
Saturday 19th November - Aperture Bar - XI'AN
It was a bright and early 7.30 am start to get to our flight, but my sleepy haze was soon destroyed by the taxi ride to the airport. I've said a lot about China's slightly wild roads (in Paul's words, "only rule is break the rule") but this particular trip was something else. Naturally there were no seat belts and we were racing down a 40 mph road at 70-80 mph, weaving in and out of traffic, cutting people up with (quite literally) centimetres to spare. I've never felt closer to death in all my life. When there wasn't an available gap (of any description) our driver would force himself between two lanes and make another lane, meaning that we were sandwiched between two hunks of metal racing down the road. Amazingly, Paul managed to go to sleep through all of this. As I was contemplating whether this was the end, I recalled playing Need for Speed on my phone a few days before. This journey was alarmingly similar, with our driver seemingly attempting to score points for cutting people up.
In more amusing news, there was a group of guys dressed up in some sort of uniform playing trumpets by the side of the road in the middle of nowhere. I have no idea what was going on. It was the equivalent to driving down the M5 and seeing people playing trumpets between Tewkesbury and Gloucester for no apparent reason. Please send possible explanations my way.
So we flew to Xi'an, a city which I was meant to play in 2008 but (you may remember this from my tour diary back then) we got stuck in a traffic jam on a bus for twenty hours meaning that we missed the show, again down to the complete madness of Chinese roads and their total lack of rules causing a traffic jam beyond traffic jams. Anyway, planes don't get caught in traffic jams so we arrived safely and met Paul's friend R.V. who took us out for some Xi'an local cuisine - lamb noodle soup with bits of bread in it. It was like a lamb stew but with bread and noodles and was one of the best things I've eaten in China. So tasty. And we were given whole garlic cloves just to munch on in between mouthfuls. My breath didn't smell so good but it really did taste very nice.
For the first time on tour we actually had a bit of time to explore today, and although Xi'an's main touristy attraction was having maintenance done to it and was covered in scaffolding, it was still nice to wander around and get a feel for the city. The new part was super busy and almost everyone seemed to be wearing a shiny puffy jacket, either with or without sleeves, with a zip that goes all the way to the top of the hood (just in case you want to zip your head away). It really was almost everyone. And loads of them were bright yellow. So there's a little nugget of information on Chinese fashion for you. But the old part was amazing and full of smells and cooking and shouting and noise and chaos and bicycles. The line between what's a 'proper' restaurant-type-place and what's a street barbeque-type-place are blurred, and there were people cooking everywhere using the strangest implements, and everything was madness of the best kind. My descriptions aren't very good but hopefully the photos will show you something when I get back.
Time was pushing on so we went back to the hotel for a little rest, then headed across the road to the venue. The show itself was good and there were lots of people there, but I think I was getting a bit depressed by the language barrier, which makes it really hard to connect with an audience on a deeper level and make it more than just eighteen songs in a row. But I tried to make things as fun as I could and I think everyone had a good time, even though maybe I didn't feel SUPER PUMPED about it all. I really need to learn some Chinese before the next tour! We went out for more incredible food after the show (barbeque and noodles) then the promoter, Rocky, and R.V. came back to the hotel with me and Paul to watch basketball. I played a great new word game for iPhone (WELDER - word geeks, get involved) and went to sleep. Only one day left in China. Sad face.
Sunday 20th November - Weibozhiyan - BEIJING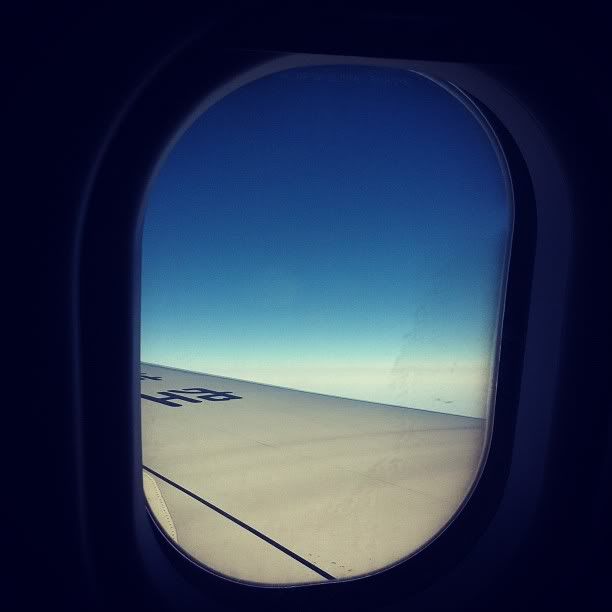 Another early flight. Another chicken burger for breakfast. Another taxi ride to a hotel. Paul was tired so we stayed in the hotel for a few hours in the afternoon answering emails and whatnot, and then headed over to the venue at 6ish. Tonight's venue was an arts cafe inside a shopping centre (surreal), but we had to skip soundcheck because there was some kind of Chinese comedy play on. So we went to eat Japanese noodles, and then met Paul's co-worker at his record label, a guy called Chow who is really into ska punk. I don't really like ska punk but we still got along fine. We mostly just drank coffee in Starbucks until 9, when we headed back to set up.
The venue was really intimate and lovely and the night turned out to be one of the best of the tour. I've generally found Chinese audiences to be a bit shy, which can make it a bit lonely and quiet up on stage (poor me) but I managed to coax some BANTER from them and it was a fun time and a lovely end to the tour. I had one final Tsing Tao (best Chinese beer) and then it was all over. Paul and I went out for late night McDonald's, including a delicious tiramisu McFlurry, and then it was time for bed because we decided that we were going to get up at 4.30 to go to the Great Wall!
Monday 21st November - The Great Wall and the journey home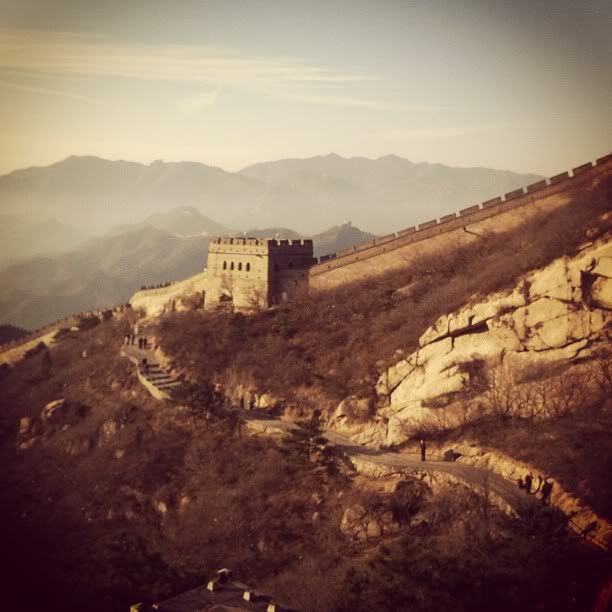 It didn't feel like much of a sleep, what with going to bed at 1.30 and my alarm blaring at 4.30, but that's the price you pay if you want to go to the Great Wall! We left the hotel at 5, caught a taxi to the train station, rode a FREEZING train to the Great Wall (it's a fair way out of the centre of Beijing) and then stepped off the train to bitterly cold temperatures. It was certainly a very fresh 7.30 am feeling. Very fresh indeed.
We wandered to the Great Wall where I ploughed on ahead (Paul has been there about a million times already) to see the sights. You have to read about it if you don't know about it (Wikipedia, thx - http://en.wikipedia.org/wiki/Great_Wall_of_China) but Paul had given me a quick briefing before I set off. It really is a marvel. Despite being brutally cold, it was magnificent to be walking along this absolute wonder at this time in the morning, just as the sun was properly coming up. Some people stopped me to have their picture taken with me, which was slightly odd (I assume it was just because I was English, not that word of my Greatest Hits album had spread far and wide in China) including one couple who wanted me to hug their toddler for a photo. Anyway, after heading up to one of the highest castles it was time to go back and get to the airport.
We caught a bus, then it was time for an emotional goodbye with Paul (I blew him a kiss) before starting the long journey home.
Goodbye, China. You've been lovely.
Dicing with death in Chongqing.
All the latest news from Chongqing.