My top ten (sixteen) albums of 2011
It's that time of year when people make best-of lists. So here's mine. I haven't done a top ten (sori); instead I've opted to just share a few things that were released this year that I've enjoyed. The descriptions aren't amazing (sori again) but I hope you find at least one new band to enjoy.
Clicking on the titles will take you to the album/EP on Spotify OR click here for a Spotify playlist containing my favourite track from each of the records below.
If you've written your own top ten/top whatever then please share it with me on Twitter or Facebook - it's good to share!
Festive greetings,
Luke
++++++++++++++++++++++++++++++++++++++++++++++++++++++++++++++
Algiers - Four Priests
Two-piece band featuring ex-members of Dartz and The Maple State. Four Priests is their debut EP and it's five tracks of northern brilliance. I don't really know how to describe it. But they sound very northern.
Bon Iver - Bon Iver
If you haven't heard Bon Iver then I don't really know where you've been hiding, but he makes some of the most beautiful music ever. It's just sublime.
The Civil Wars - Barton Hollow
I'm not much of a fan of country music but The Civil Wars are sort of alt-country and they have a very special boy-girl thing going on. They supported Adele earlier this year and they are GREAT.
Coldplay - Mylo Xyloto
I've only heard the first few tracks from this but it melted me instantly. Some don't like the direction Coldplay have taken on this album, but I love the fact that they reinvent themselves on every record, and I'm a big fan of this new super posi dancey anthemic thing they've got going on. Such a special band.
Ben Folds - The Best Imitation of Myself: A Retrospective
Ben Folds is my favourite artist of all time and this is a greatest hits of sorts, a 3-CD collection of songs from throughout Folds' career. He plays the piano. He consistently releases utterly brilliant albums. If you like my, you will almost definitely love Ben.
Brianna Gaither - Love is Patient
This year I've downloaded lots of free/pay-what-you-want albums from NoiseTrade, which is an amazing website for discovering new acoustic-y artists. Brianna Gaither is my pick of all the stuff that I downloaded, and this mini-album is a wonderful pop record in the vein of Sara Bareilles and Ingrid Michaelson. The first track is especially incredible.
Gungor - Ghosts Upon the Earth
Ghosts Upon the Earth is a concept album about creation (they're Christians yeah) and it touches on folk, prog-rock, Muse-isms, but largely defies categorisation and it one of the best albums I've heard in my entire life. You need to give it a few listens before you realise how brilliant it is. It's just astoundingly adventurous. Well done, Gungor.
I'm From Barcelona - Forever Today
I first heard of I'm From Barcelona many years ago when they released their debut album. They're not actually from Barcelona (they're Swedish) and they make super fun pop-indie with loads of singers and all kinds of other fun instruments. I think they usually have around twenty people onstage at any given gig. This album is relentlessly positive, urging you to seize the day and enjoy the world, and it oozes good vibes. Listen. Be happy.
Into It. Over It. - Proper
Into It. Over It. was a surprise discovery a few months back when I tweeted people asking for their recommendations on new music to listen to. I can't remember who tweeted back about IIOI but this album is just brilliant. It's sort of punk rock, but also poppy, and it touches on pop-punk, but has an undercurrent of folk. That's my best attempt at describing it. I've listened to it almost every day for the past two months and it makes me feel AWESOME.
Jack's Mannequin - People and Things
Andrew McMahon is the frontman/songwriter of JM, and was previously the frontman of Something Corporate, the band who prompted me to start playing piano in a rock band. So without him I might not be where I am today. Wherever that is. Anyway, this is their new record and it's textbook piano pop-rock with a big heart. If you like me, you'll probably like this.
M83 - Hurry Up, We're Dreaming
This has made it onto a lot of people's best of 2011 lists, and rightly so. It's gorgeous, dreamy, electronic pop. I haven't had a lot of time to listen to it yet but I already love it.
Noah and the Whale - Last Night on Earth
NATW emerged from the same scene as Mumford and Sons and Laura Marling, but this album (their third) sees them expanding into a whole new world of bombastic, hearty, feel-good pop. The first three tracks are just so good. I haven't listened to this in a few months but earlier in the year I was listening to it non-stop!
RAMS' Pocket Radio - Dieter Rams Has Got the Pocket Radios / Dogs Run in Packs
Slightly odd name and punctuation, but just go with it. RPR is my favourite musical discovery of 2011 (big thanks to Ben for pointing me in their direction). They make intelligent piano-rock with odd time signatures, rhythms and whatnot. It's Irish. It's brilliant. I had the privilege of seeing Rams' support Darwin Deez earlier in the year and it was definitely the best band I've seen all year. Essentially, listen to Rams'. They are going to blow up in 2012. (Sadly they only have a couple of EPs at the moment but I'm guessing that an album is on the way!)
States - Room to Run
One of my favourite bands and biggest influences on my music is a piano-rock band called Copeland. Sadly they broke up a few years ago, but States is all of Copeland minus the singer and with a lady called Mindy White on vocals instead. The sound is pretty similar to Copeland but with a female singer. I'd describe it broadly as pop-rock, Copeland meets Paramore. It's a killer pop-rock record.
Tellison - The Wages of Fear
I had the privilege of playing keys on Tellison's second album last summer and it was finally released a few months back. Tellison are one of the finest bands in the UK underground scene at the moment, and are one of my favourite bands of all time. This album builds on the sound of their first record and takes Tellison into the realms of stadium-sized bands like The Killers. Intelligent pop-rock with huge hooks, literary references, and absolutely no weak moments whatsoever. I adore this record. Pete Miles (who recorded 'Have You Got Heart?') produced it and gave it a slightly Phoenix-y production vibe, which I love. It is criminal that Tellison aren't huge yet. 
Twin Atlantic - Free
Epic Scottish rock music. The album has a bit of filler (in my opinion) but the good tracks really are excellent. I especially love the vocals and the production. So powerful. 
My Favourite 2010 Releases
Dear friends! Welcome one and all to the annual round-up of my favourite musical releases of the year. I've included links to listen to all of the records and I hope you find something new to fall in love with. Everything's listed in alphabetical order.
Please let me know what your favourite releases of the year are on Facebook or Twitter. I'd hate to have missed out on any gems.
From Luke
// Albums //
A Day to Remember - What Separates Me From You
I found ADTR's old albums a bit gimmicky with contrived heavy sections that didn't really gel all that well. Their latest album, however, is a joyous collection of heavy pop-punk with some killer riffs and beatdowns for good measure. Love it. Listen on Spotify.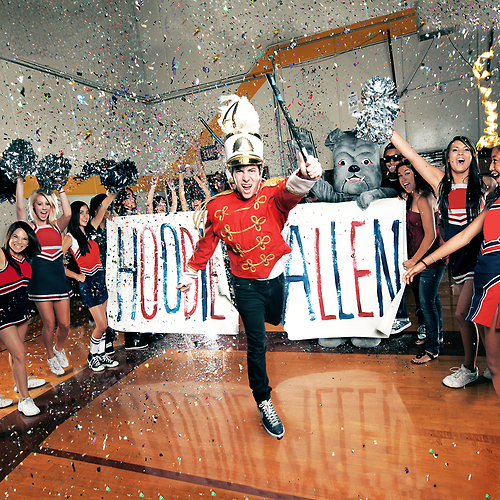 Hoodie Allen - Pep Rally
I took a chance on this album because of the amazing cover photo and the fact that it's available as a free download on SoundCloud. It turned out to be a great decision; Pep Rally is a collection of killer hip-pop tracks, with Hoodie sampling the likes of VV Brown and Florence and the Machine. Nice. Free download on SoundCloud.
Audrey Assad - The House You're Building
If you like Christian female acoustic singer-songwriters that sound like they should be on the soundtrack to The OC (like me) then you'll love this. In my opinion, Assad's a cut above the rest for this kind of thing. Listen on Spotify.
Sara Bareilles - Kaleidoscope Heart
You might remember Bareilles for her global megahit Love Song a few years back. This is her second album which still explores the whole piano-pop thing, kind of like Ben Folds meets Vanessa Carlton, but this new record has a slightly eighties slant with Queen-esque backing vocals and a drum sound that Phil Collins would be proud of. She certainly knows how to write a massive tune and this album is just incredible. Listen on MySpace.
Ben Folds - Lonely Avenue
If you know anything about me then you'll know that I love Ben Folds. He's probably my favourite artist of all time, and a huge inspiration to my own writing. This album is a collaboration with Nick Hornby (About a Boy, High Fidelity) who wrote the lyrics, with Folds turning his words into huge pop hits. The second track Picture Window is the most beautiful song I've heard all year. If you haven't listened to Folds before, start listening! Listen on Spotify.
Cee Lo Green - The Lady Killer
Cee Lo Green is one half of Gnarls Barkley (remember that song Crazy?) whose album I bought back in the day, only to be disappointed by the lack of any decent tunes aside from the hit single. Thankfully his debut solo record is full of big brash pop with huge beats and incredible orchestral arrangements. Listen on Spotify.
Ellie Goulding - Lights
When this album came out I dismissed it as average pop that was propelled to huge success by masses of hype. However, I re-visited it after hearing Ellie's cover of Elton John's Your Song last month and have realised that I was a massive idiot. While the album's not quite as good as all the hyperbolic reviews said it is (in my opinion), it's an enjoyable collection of really well written pop songs and I was a berk for saying otherwise. Listen on Spotify.
Israel Houghton - Love God. Love People.
Kirk Franklin hasn't released a new album this year but my second favourite gospel artist threw this into the mix, which has tided me over. Cheers, Israel. If you like super upbeat gospel with big horns then check this out. Listen on Spotify.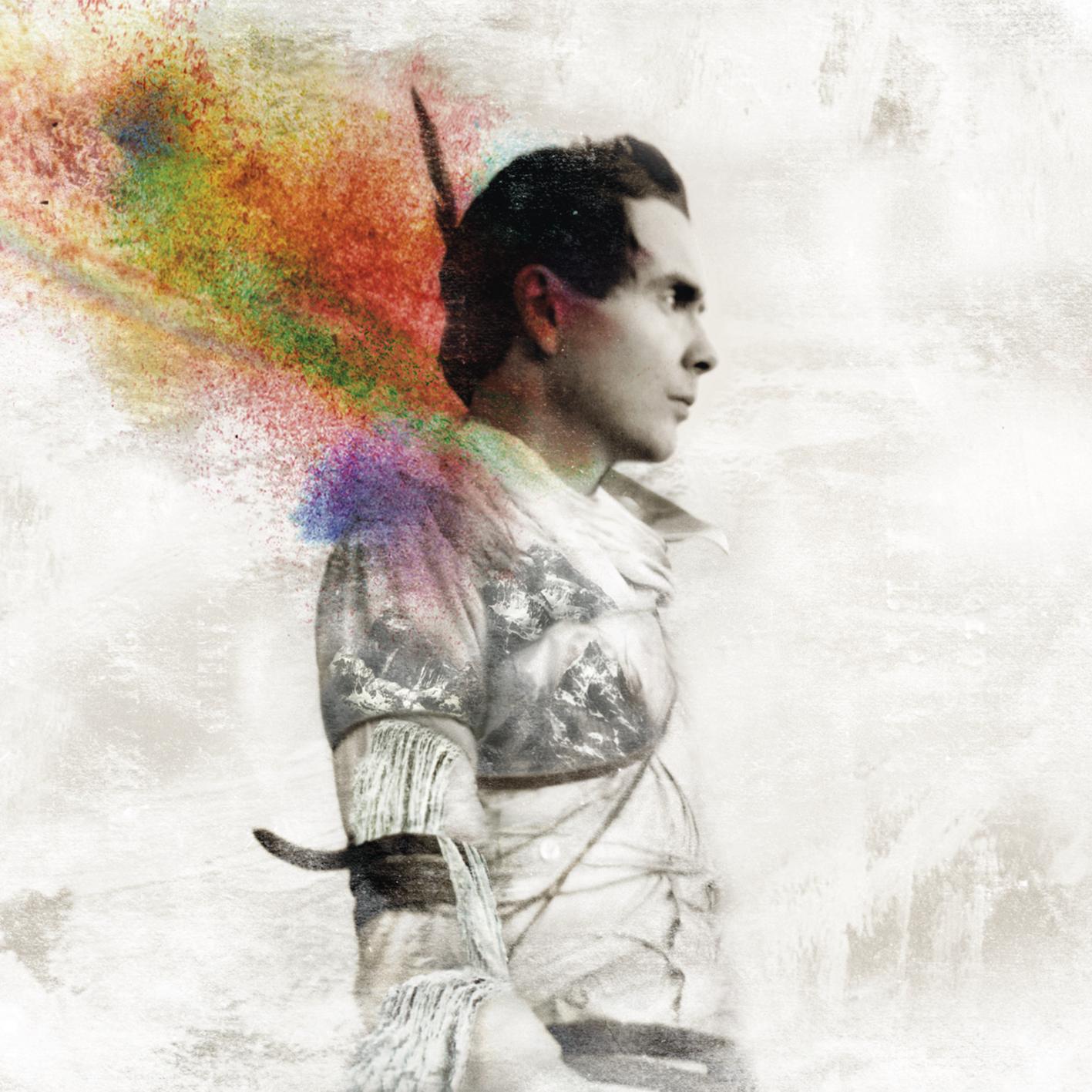 Jonsi - Go
This is the debut solo album from Jonsi of Sigur Ros fame. These tracks are slightly more song-y and upbeat than Sigur Ros' work, but still just as effortlessly beautiful. Listen on Spotify.
Katy Perry - Teenage Dream
Kitty Purry's debut album is one of my all time favourites (seriously, there's a lot more to it than Ur So Gay and I Kissed a Girl) and I don't think Teenage Dream quite matches up to it. However, Perry still knows how to write a killer pop tune as California Gurls ably demonstrates, and this album is oodles of fun. Oodles! Listen on Spotify.
Sufjan Stevens - The Age of Adz
I've loved Sufjan for a few years now and Illinois was one of my most listened to albums when it was released. Stevens has departed somewhat from his folky sound of yore on this album, exploring weird electronic soundscapes and auto-tuned vocals, but The Age of Adz is an exhilarating (if pretty weird) collection of skewed pop. Listen on Bandcamp.
The Candle Thieves - Sunshine and Other Misfortunes
Twee music normally rubs me up the wrong way but The Candle Thieves' album of keyboard-infused chirpy pop is impossible to dislike. It's saccharine sweet and sounds like Ben Folds in parts, so that's enough for me to love it. Plus they are just lovely, lovely guys. Listen on Spotify.
The Rocket Summer - Of Men and Angels
I know many people who can't abide Bryce Avary's slightly whiny voice, but if you can get past that then this album is filled with positive, invigorating pop-rock with tasty guitar solos and smatterings of piano (I can't get enough piano). This is my album of 2010 for sure, and possibly my favourite album of all time. Big statement. Listen on Spotify.
The Xcerts - Scatterbrain
The Xcerts' debut record made my top ten list albums list last year and Scatterbrain, the follow up, deservedly makes the list again. Think intelligent rock music a la new Brand New meets Pinkerton-era Weezer. 02:54 on fourth track Gum kills me every time. Listen on Spotify.
Kanye West - My Beautiful Dark Twisted Fantasy
I can't claim to listen to a lot of hip hop but I've always loved Kanye. This album is packed with clever lyrics and unbelievably detailed and intricate arrangements. It also makes me feel tough when I listen to it in the car. Listen on MySpace.
// EPs //
Klaus - I Saw The Light
I may be biased (I released this on my label, Got Got Need Records) but this EP is beautiful, quirky folk-pop. Sadly Klaus has now split up but he'll be back with a new project in 2011. Listen on SoundCloud.
In Gratitude - Only In Youth
I found out about these guys because they recorded with Pete Miles (who recorded Have You Got Heart?) and I'm glad I did! This EP is full of gorgeous piano-led indie rock a la Copeland, and better still it's available for free! Free download on Bandcamp.
Pegasus Bridge - While We're Young
I played with these lovely gents in Redditch last summer and was taken with their synth-led brand of infectious indie pop. This is their debut mini album and it's just so damned catchy! If you like Futures or other upbeat pop rock stuff then you'll love this. Listen on Spotify.
Sleeping At Last - Yearbook
I've followed Sleeping At Last avidly since getting a free download of their album last Christmas. They started a project in October where they release a three track EP every month for a year and the results so far have been outstanding; beautiful slices of soundscape-y atmospheric indie folk, kind of like Sigur Ros meets Copeland. I can't wait for the rest of the EPs to be released! Listen on Spotify.
States - Line 'em Up
States is a supergroup of sorts, comprised of members of Lydia and Copeland. I love Copeland (you might have guessed that from the many references to them in this blog!) and this basically sounds like Copeland with female vocals, definitely not a bad thing. It's sort of like Coldplay meets Jimmy Eat World. Sort of. Listen on Spotify.
Tellison - Collarbone
This EP from Tellison acts as a precursor to their second album due out next year. I was lucky enough to be asked to play keys on the album and it really is an incredible record. Until it's released you'll have to make do with this taster, for fans of anyone that likes good music. Listen on MySpace.
FizzyPop!! - Pop Potential: The New Wave of Singer-Songwriter Genius (Part 1 - The UK)
A wonderful blog called FizzyPop!! wrote some kind words about me this week, in which I get compared to Ben Folds and Robbie Williams. I'll take that. Here goes:
"I love a good balls to the wall, deliriously gleeful, wonderfully wacky dance orientated pop number I do. What's fluffy and throwaway to one is gold dust to me and I savour every nuance, note, beat and boogie along the way. It makes up much of my listening material to be honest with you. But that doesn't mean I am not completely appreciative of what some may class as a deeper level of artistry - where the song is lovingly crafted by the singer and a composition comes together that is musical poetry. So this post is the first of two dedicated to finding the best unknowns (to me, previously anyway) out there who music makes me soar…
Luke is on his third album at the moment, so shame on me for not noticing him sooner. However, better late to the party than not turning up at all - and I'm taking one of Luke's songs with me on my guest slot on The Morning Jolt radio show tomorrow morning. His latest album Have You Got Heart (click on the title for more info) is full of heart on sleeve pop tunes, built around intricate piano melodies and heady guitar riffs that are reminiscent of troubadours like Ben Folds and Julian Velard. Lyrically, there's little subtlety within the songs and you know exactly what the young fella is talking about - this isn't a criticism; rather it's a rallying call to the masses to share in the musical experience and relate to your own life. I love this type of writing - Robbie Williams excels at it, and he's done all right out of it. For Luke, it seems the message in the music is to share your passion and that's mirrored with his campaign to give the album away (or make a donation - highly recommended option for the quality of work you are going to get). The vocals, the floating piano, the aggressive guitar - it's all pulled together by an excellent production value and draws you fully into what is ultimately a completely rewarding listening experience. Do check him out…"
The blog goes on to mention Joe Brooks and The Woe Betides, and you can read the entirety of it here.
Thanks, FizzyPop!!